It is a traditional product of Spanish cuisine, where it only contains high quality raw materials as its main ingredient: Cod "GadusMorhua". Our Tortillitas respect the original lines of our grandmothers, and, you will always discover in them, the authentic taste of the home made.
At Malacitana Gourmet we are proud of the legacy of doing the right things, of the responsibility of the job well done, and of the nerves of observing the face of our clients and waiting for their verdict when they give the first bite, we have the emotion and the pride That say "How rich!"
Others specialties of Pancakes are the green asparagus or wild asapragues originating in the Mediterranean zone, Cauliflower pancakes, and the shrimp pancakes which respects the traditional Andalusian recipe.
Our croquettes are the croquettes of all the life, and only they contain raw materials of high quality and we do them with this is affection of the good croquettes forever. The base and common element of a good croquettes béchamel. That's why we make them with fresh milk and butter and flour of the highest quality. The rest of the ingredients you will discover in every bite. We have no secrets with you.
Typical dish of the Andalusian cuisine, whose traditional recipes come from the 19th century. There recipe contains as main ingredient, hake, which is a white fish with a low fat and caloric content. Dish that can be served as a tapa, as is done in the Andalusian restaurant.
It is a traditional dish of the Spanish cuisine that has many years, not to say centuries, giving flavor and color to our tables, but that is not an exclusive dish of the Spanish gastronomy.
The origin of this dish is lost in history, some say it is of Italian, Basque, or even Galician origin. In Italy, it is considered as one of the great star dishes of Venetian cuisine. Here in Spain they are eaten anywhere in our geography. From Malacitana Gourmet we try to recover the original recipe of our grandmothers and, that you can remember those familiar meals.
Try our exquisite chicken lagrimita (cut chicken breast in the form of strips or tears), crisp and tasty with its exquisite touch lemon flavor, ideal for any occasion and that can be accompanied with all kinds of sauce or salad.
Tenderd and juicy chicken breast made in cereals that give it a crushing and tasty  with an original shape form ideal for children.
Delicious chicken breast spreaded in cruising oats which give it a a higher crispy taste.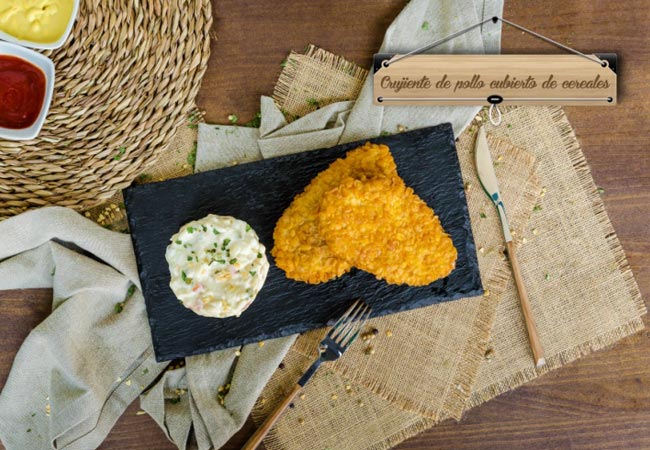 Chicken Breast Filled With Philadelphia
Exquisite and tendered chicken breast filled with a soft, lightly spicy cheese.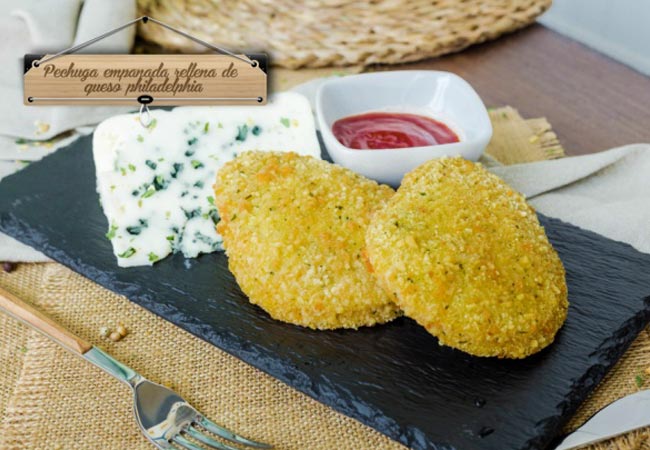 Our chicken kebab is made with fresh national chicken keeping the same line of homogeneity in texture, color and taste. Try our sliced chicken kebab, because its taste will not leave you indifferent.